Note: if you are interested in this program, please speak to us before you purchase a guitar. The guitars we use for the program are high-quality, sized to the individual student, and solid-top, so that the students first experience with music involves a playable and great sounding instrument.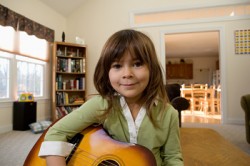 The Guitar for Children program is a curriculum designed for teaching guitar to children ages 7-13. Skills developed in the program include ear training, theory, sight-reading, and instrumental technique. This unique program combines aspects of traditional music lessons with elements of the Suzuki Method®, which allows for greater flexibility of approach.
As a result, young children can learn the guitar with much the same style of learning that has been used by piano teachers for generations, and gain the same level of music training with respect to reading and technique. Many young children who are interested in learning music and who want a degree of independence from their parents would normally be excluded from study (with for example the Suzuki Method®), but our program has been carefully structured and the curriculum designed to allow for varying levels of parental involvement.
More About Guitar for Children
Piano pedagogy benefits from a refined system that has been in use for over 100 years. From the beginning it has always been considered first and foremost a 'classical' instrument, whereas guitar has maintained a prominent position in popular culture, resulting in confusion for beginners, and wide variance of approaches by teachers. It is more of a genre instrument, and is actually a family of instruments, as opposed to a singularly defined instrument. The 3 types of guitars in common use today, each requiring a different approach to teaching, are Nylon String, Steel String, and Electric.
What most beginner students and parents don't recognize is that these differences only matter to those who can already play the instrument to a degree and have already attained a certain amount of musical competence–in other words, all beginners benefit most by following a similar path, which is that of beginner music lessons, on a guitar, where the fundamental elements of music can be learned and mastered, and the skills developed go far deeper than just playing guitar. 
Our curriculum does not aim to distinguish between the type of guitar or genre a student is interested in, except to say that all students must start on the easiest instrument possible and one that will yield the most enriching musical experience. To this end, we have concluded that the guitar must be a nylon string (easiest to press down on, and sounds the best for single note work), solid top (students must be able to experience a quality of tone), and it must be the right size.
Students of the violin, cello and other stringed instruments all benefit from a long and rich pedagogical tradition, where fractional instrument sizes have always been available (imagine a 5 year old Mozart playing a full scale violin.). So we offer guitars in every applicable size appropriate for students ages 4 - adult. The sizes we use are: 40, 45, 48, 49, 50, 51, 52, 53, 54, 55, 57, 58, 61, 63, 65 (full size), 66 (for tall people).
The GFC program is carefully crafted using core principles inspired by well-known and proven methods for piano and other instruments that were observed to guarantee a solid, fun, and easy way to learn music. The GFC program was also developed specifically for those children and families where the Suzuki Method® would not be an option. While that method is indubitably proven effective, it is not for everyone, so we required another curriculum able to provide that same quality of instruction to kids who would otherwise not be able to participate.