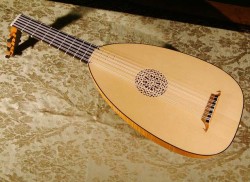 Our program in early plucked strings typically begins with study of 8-Course lute. Other instruments are available such as Vihuela, Archlute and Baroque Guitar (please inquire).
Following a traditional curriculum that centers around Diana Poulton's "A Tutor for the Renaissance Lute", students will learn to read Lute tablature, p/i divisions (sales, melodies), chords and more.
Students in early plucked strings will need to obtain good quality instruments. When in doublt you can contact us for instrument resources.